About us
---
Fruit of the experience acquired over decades by our technical staff in the study, manufacture, installation and commissioning of facilities for treating of aggregates and minerals Miningland was founded with the aim of becoming a worldwide reference for its engineering ability, for fully performing projects and for providing the best technical solutions.
Our commitments are to quality, efficiency, service, safety of persons, and respect for the environment. We believe that we can make great progress in all these areas without losing profitability.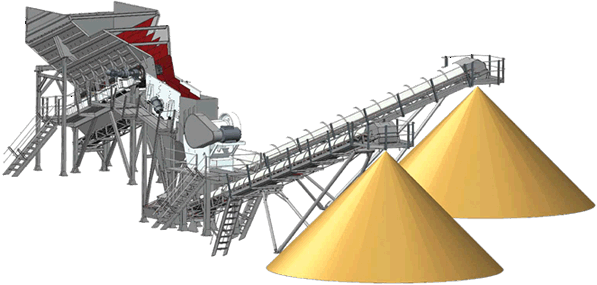 Team
---
Miningland technical staff has decades of experience in the study, development, manufacture, installation and commissioning of facilities for treating aggregates and minerals.
We are a multidisciplinary team of engineers, specialised in installations design using 3D software, mechanical design, structural calculations, organisation by optimising the available means, production specialists with the most modern numerical control systems, electrical and hydraulic facilities, installation and after sales services.
Our staff has always fulfilled these functions making us a safe bet for meeting the objectives of our customers.
What we do
---
Miningland's objective is to build mineral processing facilities, especially for use as aggregates in construction and public works. We perform "turnkey" equipment installation projects and control the entire process:
Study of the mineral and its deposits

Study of the desired end product

Selection of the right equipment

Elaboration of the lay-out and technical defence

Financial budget

Manufacturing of equipment

Transport

Installation and Commissioning

Operational staff training

After sales service
Fluctuating mineral markets require fast and efficient answers and agile production means, while avoiding mammoth projects. Also, and especially in emerging countries,  public works require agile answers and means which do not require huge investments. The result of careful design studies, we have modularised and standardised components and machinery to lower costs, improve quality, competitiveness and response times in mining facilities.
We transport most of our products in containers and thus compete worldwide, our goal is international expansion.
Professional Advice
Tell us your project. We will advise and resolve all your doubts.
Send us an email and we will respond as soon as possible.