Desfillerized Sand Dry Method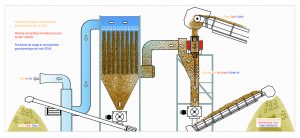 With de aim to satisfy the more rigorous demands, of crushed sands used for hydraulic concrete, our technical department has studied the problematic and, with easy methods, has developed a complete solution.
According to the use of the sand, there are standards for concrete sands which are based on the product grading in addition to the mineral quality. We can't manage the mineral quality but, we can handle the grading curve in the appropriate zone.
MODEL
VENTILATOR
FILTER
SCREEN
CAPACITY (m³/h)

POWER (Kw)

Nº HOSE
FILTER SURFACE
MODEL
SAND CAPACITY (0,4mm)
DSD-60
12000
30
132
189
45-II
60 Tn/h
DSD-90
18000
37
198
283
54-II
90 Tn/h
DSD-120
24000
55
264
378
63-II
120 Tn/h
DSD-180
26000
75
396
566
72-II
180 Tn/h